One of the best ways to breathe new life into a home is to remodel your bathroom. Bathrooms are one of the main talking points for home buyers today, therefore, outdated bathrooms can stop potential buyers in their tracks. Even if you're not looking to sell, it's nice to increase the value of your home and feel like you're living in the current decade. A bathroom should be a place of retreat and relaxation and with a carefully curated remodel, it can be exactly that! There are countless benefits and reasons you should remodel your bathroom, but in this article, we'll be focusing on the main five.
Why is bathroom remodeling important?
A good bathroom remodel will ensure all your fixtures and plumbing is working properly and efficiently. If there are any existing issues with plumbing or leaks, these can be detected and repaired to help avoid any future mold problems that may arise from dampness. It will also improve the function of your bathroom and could increase your property value.
Is a bathroom remodel a good investment?
The bathroom is one of the most profitable rooms to remodel to increase the value of your home. You can expect to recoup an average of about two-thirds of your investment in remodeling a bathroom when you sell your home. At resale, midrange bathroom remodels can recoup up to 67% of their costs, whereas upscale bathroom remodels earn an average of just over 60% back in the sale. 
How long does a bathroom renovation take?
The average bathroom remodel can take anywhere from 3-4 weeks. The time it takes to complete a bathroom remodel will vary depending on the size of the bathroom, the scope of work, and the availability of materials (i.e.: some may be on backorder or special order).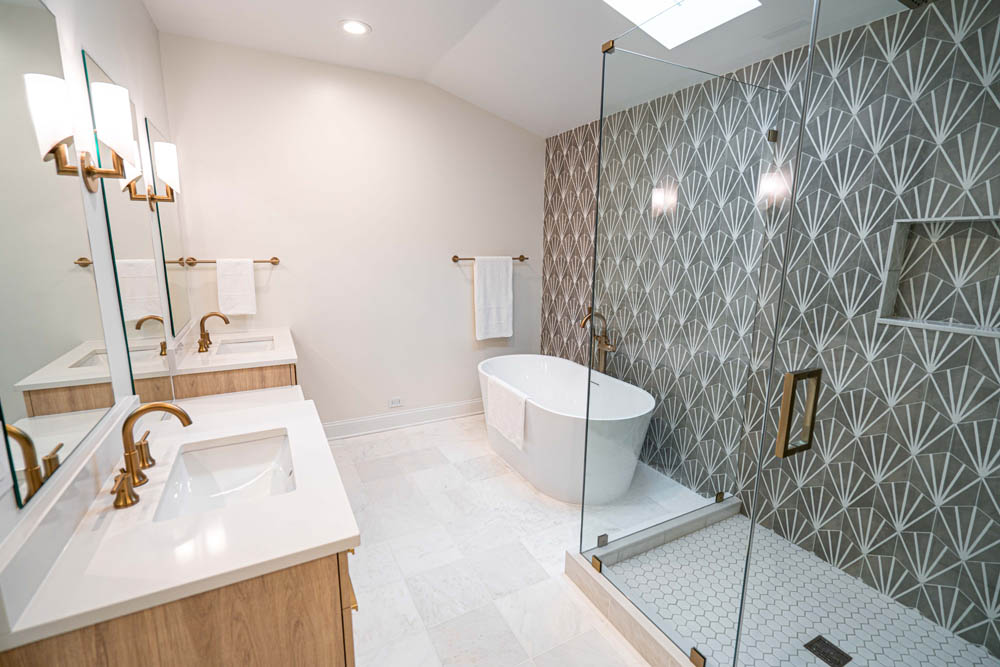 Here are 5 reasons you should remodel your bathroom:
1. Add Functionality
If you have a large household with several people using the same bathroom, remodeling the space can make it more functional. Removing the bathtub and replacing it with a walk-in shower, adding a bench in the shower, etc, are all ways that can help make your bathroom more functional.
2. Create More Storage Space
When chatting to clients about what they want out of their newly remodeled bathroom, more storage space is always high on their list. Replacing an existing vanity with a larger, more stylish one creates additional storage space (as well as counter space) while enhancing the look and visual appeal of your bathroom. Additionally, you can also opt for the installation of medicine cabinets to increase practicality and storage.
3. Increase the Resale Value of Your Home
One of the biggest benefits of remodeling your bathroom is that it will increase the resale value of your home. Homes with modern or renovated bathrooms tend to sell at a higher price than homes with dated bathrooms. At resale, midrange bathroom remodels can recoup up to 67% of their costs, whereas upscale bathroom remodels earn an average of just over 60% back in the sale. 
4. Modernize Your Bathroom
Pink bathroom tile and that outdated fiberglass bathtub surround got you feeling like you're living in the 1960s? Say no more! Remodeling your bathroom can help modernize the look and feel of it by choosing fixtures and a design to help bring it up to date with current trends. Items like a recessed niche in your shower/bathtub and/or a floating vanity are sure ways to add that fresh, modern touch!
5. Enhance Bathroom Brightness
Your bathroom should be a well-lit space, but unfortunately, not everyone has access to windows in their bathroom to let in natural light. Many condo/apartment bathrooms, especially here in Chicago, are boxed in and depend on artificial light. A bathroom remodel can solve this problem by installing recessed lighting or additional wall lighting to help brighten up your bathroom space. 
These are our top 5 reasons you should remodel your bathroom!

Looking to remodel your Chicago bathroom? IRPINO Construction is your one-stop shop for all your bathroom remodeling needs in Chicago. Our experienced team is ready to transform your space into the bathroom of your Dreams!
Let's get talking – contact us now or by calling (773) 525-7345.