Project Type: Master Bathroom Renovation
Neighborhood: Roscoe Village
Home Type: Condo
Timeline: 5 weeks
After the successful completion of an outdoor deck project for Scott and his wife, IRPINO Construction was invited back to give our clients the ensuite of their dreams. This Roscoe Village bathroom renovation took us five weeks to complete and we were extremely pleased with the end result.

For this project, we:
This project was a complete gut renovation where we installed a free-standing tub and modified the plumbing to accommodate a floor-mount fill valve faucet;
Added a custom shower that allowed for a larger footprint, a custom frameless glass wall system and door, a shower bench, an oversized niche with shelf, body sprays, a shower wand, and a separate shower head;
Modified the plumbing to allow for the new location of the shower drain to be a center-linear drain;
Installed a double vanity and double medicine cabinet and reinforced the wall to accommodate the floating vanity;
Installed a floor-to-ceiling textured tile accent wall;
Installed a heated flooring system with a 7-day programmable thermostat; 
Added screwless plate covers along all light and outlet areas;
Installed recessed lighting; 
Ran electrical for medicine cabinets with built-in lighting; 
Installed an upgraded exhaust fan.
The end result? This Roscoe Village bathroom renovation left our two clients delighted. They now have the ensuite of their dreams and a place where they can relax and unwind after a long day at work!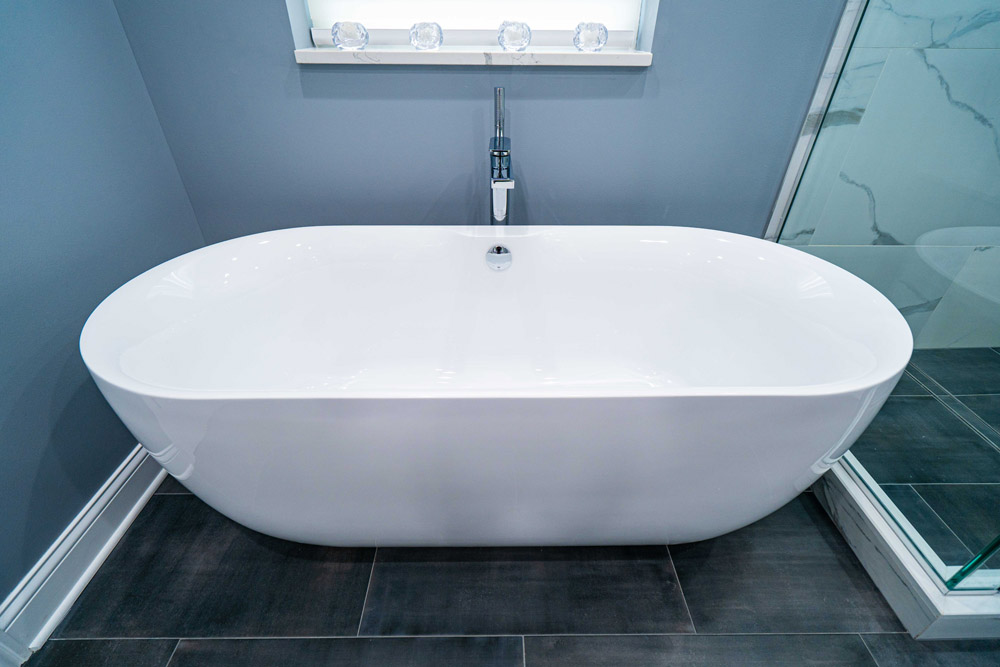 View more of our remodeling projects here.
Are you looking to remodel your Chicago bathroom? IRPINO Construction is your one-stop shop for all your bathroom remodeling needs in Chicago. Our experienced team is ready to transform your space into the bathroom of your Dreams!

Let's get talking – contact us now or by calling (773) 525-7345.