With a new year looming, now is the best time to seek inspiration for your 2023 bathroom renovation. While the bathroom primarily serves a functional purpose, it is undoubtedly the most used space in any home – we begin our day there and end our day there right before we head to bed – therefore its design and style should be carefully considered. Whether you are currently in the process of designing a new bathroom or looking to renovate your existing one, here are our top 10 bathroom trends for 2023 that are being most requested by our clients.
1. Backlit Mirrors & Medicine Cabinets
This was on the 2022 hot list and it will definitely continue to be highly requested in 2023. Chic mirrors with LED backlighting will bring a new level of depth and brightness to your morning self-care routine.
2. Heated Floors
While this trend may be more common due to our location (Chicago winters can be brutal), this little luxury is a nice way to spoil yourself on an extra cold, winters morning.
3. Bold Tile
Gone are the days of all-white tiled bathrooms. Bold tile selections are in for 2023! Full tile wall designs as accent walls, mixing and matching textured tiles with flat-surface tiles, and we're even seeing terrazzo tile making a comeback!
4. Brass Hardware
The timless look of brass hardware will continue to be a popular bathroom choice in 2023 with oil-rubbed bronze following closely behind. The use of mixed metals are also on the rise.
5. Bold Lighting Fixtures
Move over minimalist lighting, bold and decorative light fixtures have entered the room! Whether it be a pendant, sconce, or a flashy ceiling light that commands immediate attention, your bathroom light fixtures can still contribute to the room's functionality, all while making a statement.
6. Statement Tubs
This long-time trend is becoming ever-more popular and we predict that it's here to stay. Not only do free-standing tubs excuse a spa-like atmosphere, but they create a focal point in the room that immediately draws attention.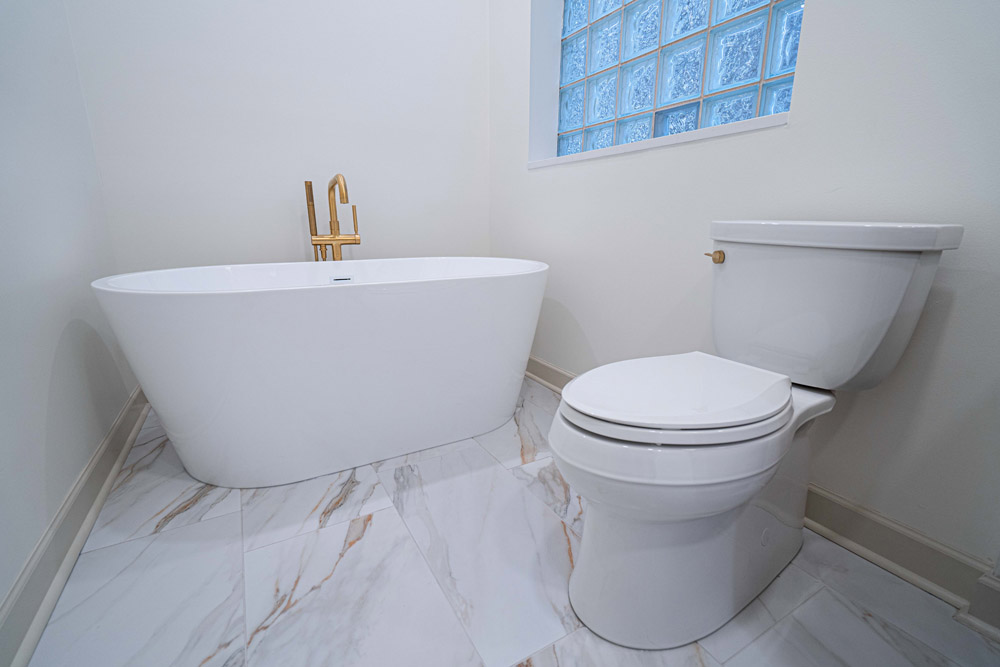 7. Square/Rectangular Sinks
With round and oval sinks being out for some time now, square and rectangular sinks is where it's at – especially a vessel sink. Change up the color of your vessel sink from the color of your vanity to really make it pop!
8. Additional Storage as a Top 10 Bathroom Trends for 2023
While a bathroom vanity is typically the only means of bathroom storage, we're seeing requests for additional forms of storage – floating shelves, medicine cabinets, linen closets, and more. Even more so as pedestal sinks make a comeback, leaving little room for closed-off storage beneath them.
9. Fluted Edges
Spice up those cabinet doors and drawers. Fluted edges bring texture and detail while adding an extra layer of depth. They're on our hot list for 2023.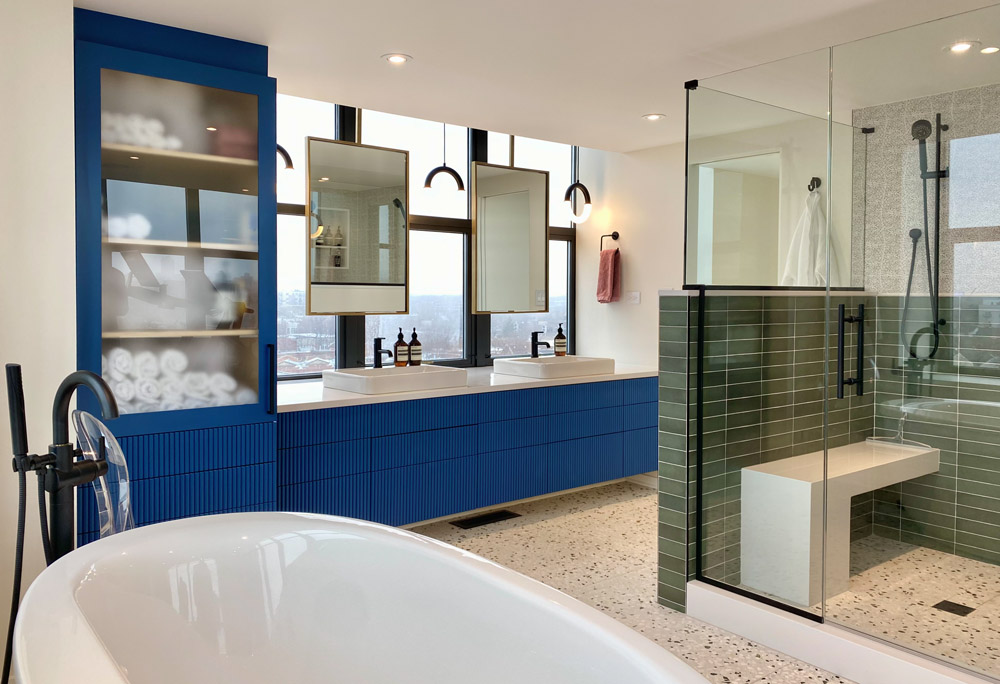 10. Bidets
It may have taken a global pandemic and a toilet paper shortage to increase its popularity, but bidets are finally becoming mainstream here in the USA. You can find toilets that come with built-in bidets, or you can purchase attachments that you can connect to your existing toilet.
View more of our remodeling projects here.
Are you looking to remodel your Chicago bathroom? IRPINO Construction is your one-stop shop for all your bathroom remodeling needs in Chicago. Our experienced team is ready to transform your space into the bathroom of your Dreams!

Let's get talking – contact us now or by calling (773) 525-7345.